Hako Sweepers
Hako Sweepers have been introduced due to demand from our clients. We are able to offer a fleet of Hako CityMaster sweepers for cleaning in a variety of places. Carrying out traditional road cleaning and gutter cleaning, we can also offer due to the unique design of our sweepers, the ability to get into areas where a traditional road sweeper is too big. Retail parks, shopping parades and schools are an example of where our Hako Sweepers are used to clean.
Its small size allows it to clean effectively on pavements whilst its manoeuvrability means obstacles such as bollards and benches are easily overcome. The sweepers carry their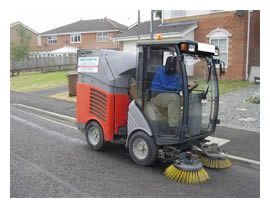 own water supply and if required we have the facility to apply a sanitising solution whilst sweeping to clean and deodorise the most heavily soiled areas. All collected material is deposited into an onboard waste collector and rubbish is deposited off site at a licensed waste transfer station.
We offer a unique service where we can attend site, clean and depart without the need to have access to water supplies or rubbish disposal areas.