Brickwork and General Building
Brickworks include the repair of damaged wall, the construction of a new wall as well as general building work. Re-pointing of the brickwork, can improve the look of your house, increase weatherproofing capabilities and of course add value too.
Over time the stability of a cavity wall can deteriorate due to the wall ties failing. These ties hold the two walls together. Corrosion of these leads to failure causing the two walls to separate affecting the integrity of the building.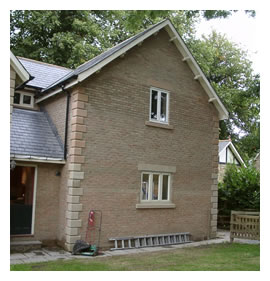 Our solution involves drilling small holes through the brickwork, installing the new ties and anchoring them with epoxy resin, which is more economical than having to have the walls rebuilt.
Our building squads also construct driveways and paved areas, using flagstones, block paving or concrete, the choice is yours.
Work undertaken also includes :-
Garden walls
Raised flower beds
Paving & Block paving
External concrete steps
Metal railings