Disability Adaptations
We carry out work for local authorities and housing associations to adapt properties for use by people with disabilities.
This ranges from the straightforward construction of a concrete ramp, to full internal alterations, involving levelled floors and widened doorways.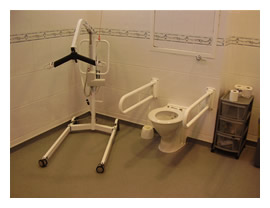 Walk-in showers are constructed for the use of people with disabilities, so they can take a shower with the minimum of inconvenience.
Adaptations to the private household are also carried out.
A handle next to a driveway or in a shower can make a great deal of difference to somebody, who is just a little unsteady on their feet.