Streetworks
We have a team of skilled operatives, who have been trained in Streetworks Excavation & Reinstatement. This course is accredited by The City & Guilds Organisation and means we are able to work on any public highways, paths etc owned by the various Local Authorities.
Without this training, this work would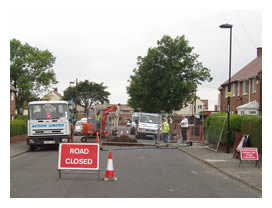 not possible. This is due to Health and Safety regulations, which are strictly enforced in order to guarantee the safety of the general public.
The picture shows work on a recent drain collapse project.
Following the collapse to the main drain, we managed to get the road closed. Proper signage was provided and our team moved in. The drain was excavated, replaced and the road reinstated all within a 2 day period